On this day in 1985, a 26-year old girl in Los Angeles, California was driving to her job at the ABC studios when suddenly her uterus contracted, and within a few long hours, the man people would learn to call "the
Where'd the Cheese Go
guy" was born.
24 years later, here I am. Writing this blog on the internet. Woo-hoo, I guess!!!! BUT here are some lovely presents I've received from my wonderful friends!! And they're all art-related! Thank you all so, so much. I'll be updating this post as I scan and receive more, so keep checking back!
Jess created this adorable felt bunny for me!!!! Awwwww! Here's a couple photos I took of it:

Let's go MACRO!
Eeee-hee hee! Miss Jess is a crafty little devil indeed. I love Mr. Bun Buns! She took the photo below!:
Molly
MADE this Fraggle Rock card out of her own crafts, blood, tears.. OH and talent!! Holy cow!!!!!!
She and Carl also got me a webcam (!) and Harpo Marx's autobiography,
Harpo Speaks!
SO awesome. On top of THAT, they surprised me this past week with an early birthday cake. You guys, I don't deserve you. You are THAT awesome. Love ya!!
KAAAAAAAAAALIIIIIIIII
!!!!!!!
This drawing is amazing! Thank you thank you. You are the sweetest girl ever!!!!!! I love yoooooooooou xoxoxoxo!!!!

eeeeeeek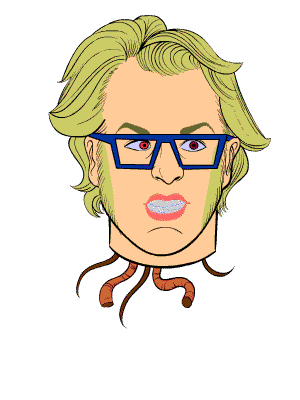 BEN!!!!!! Ben, seriously. Why are you the coolest person on the planet? My mind is blown away by each and every drawing you do, and this special one below is no exception. Words can't express how much I love this. Thank you, thank you, THANK YOU!!!


Katie beat everyone, time-wise, with this text! Thanks for thinking of me, buddy!


Below, we see

Adam Nixon

as he helps get me in the celebratory mood by posing in a brand new album cover photo with me!!!!
And speaking of music, good ol'
David Gemmill
created an
AWESOME SONG
as my present! Right-click and save the link to listen! And make sure you listen to the whole thing... you DON'T WANNA MISS the robot vocals at the end!!!!! Thanks David!!!
HOLY CRAP!!!!!!!!


My mom got me this nifty set of Coraline dolls from Amazon!!
If you loved or even just liked the movie, BUY THESE! It's nice to see some quality toys being made again. Their faces and clothes are ALL interchangeable, and their wrists, elbows, knees and feet all bend and rotate. This means kickass posing action!!!
Coraline heavily endorses iPods.
Bring on the 'TUDE!!
Also, they are just about the height of the actual Coraline models used in the movie. It's like I got to visit the set and take a couple home with me!! Haha, it's fun to pretend. Either way, I'm definitely gonna have fun taking more photos of these!
Welcome home!
50 cents off of Ralphs canned soup?? HOLY BEJESUS!!!!!
My mom also got me one of my favorite Disney movies,
Pinocchio
, finally released on DVD. Hooray!!!

Look what my great friend Zach Bellissimo made for me! Damn but if he isn't one talented lil' bugger. HAHA, buck teeth, stink lines, and all! I love this Zach, THANKS MAN!!!!! YOU are very cool.



Here is a very appropriate video gift from my pal
Brian Hanson
.

A gift from uber-talented friend Amir Avni! Thanks man, I LOVE this!!!


My pal Redd drew this for me! Ack, I've been officially FURRIED! Hahaha, just kidding. Thanks buddy!

A cartoon from
Darby
! Thanks duder!

Hmm, what else? Well, last night
John
had a BIG party at his house. What could possibly be better on your birthday than...
...hanging with awesome cartoony friends like
Eddie Fitzgerald
,
Jerry Beck
.... and Gary Owens. Gary. Owens. Gary "Powdered Toast Man" Owens. Gary "Space Ghost" Owens. Gary "ROGER RAMJET" Owens. A cartoon voice acting legend!! (I took this photo, I wish to heck that I was in it!!)
...having Kali sticking Cheetos up your nose and being happily joined by
Shawn Dickinson
...
...drinking beer with John, of course...
...and getting so drunk that you put on an old Ren Hoek Halloween mask and scare the crap out of the great
Jim Smith
.
...AND Kali! BOOYA!
...
Not to mention drunk-dialing Ben. Twice.

Wow, what a great birthday!! All I can ask at this point is... what has happened to me?